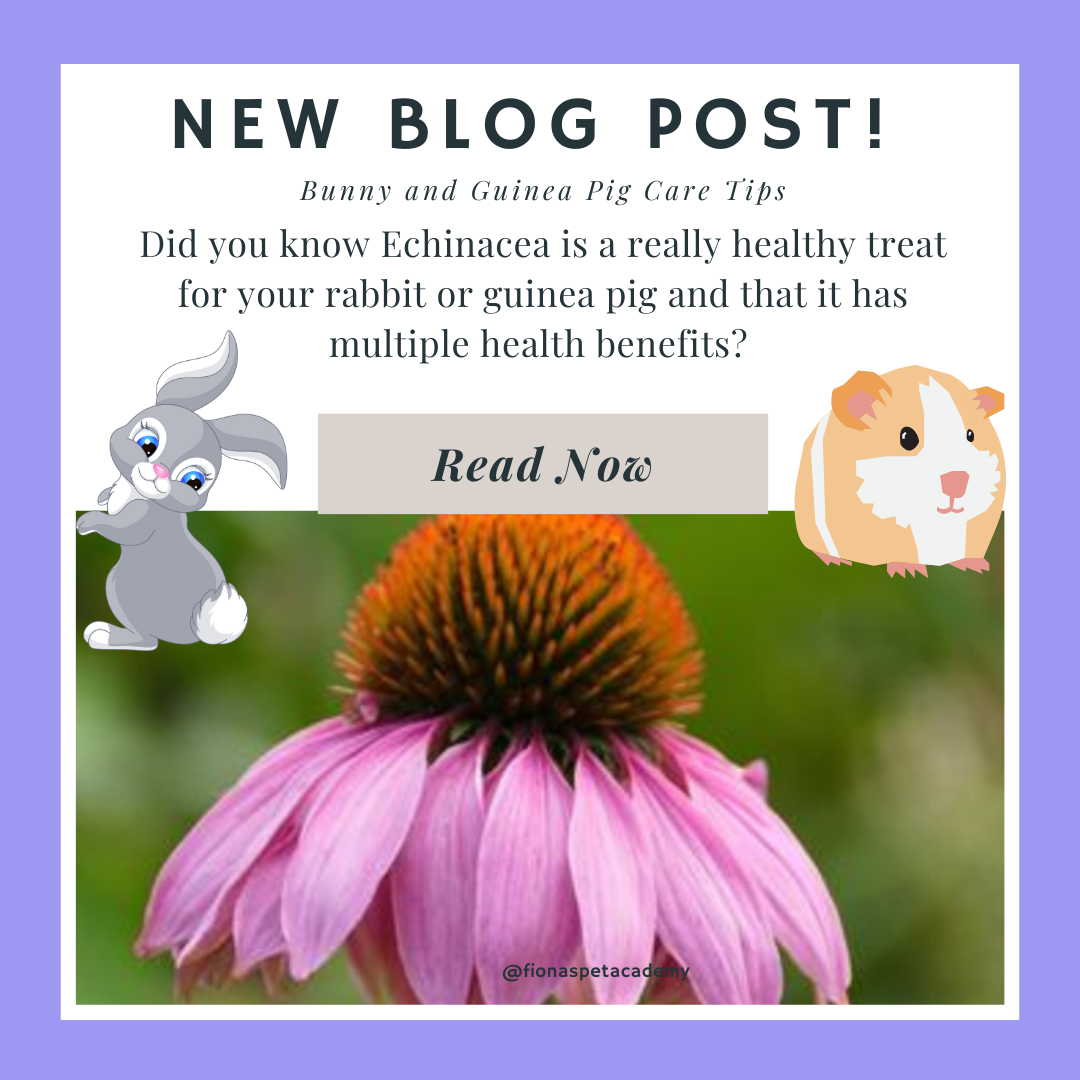 Did you know that Echinacea is great for bunnies and guinea pigs?
Find out how it can benefit your rabbit's overall health!
You might be wondering what plants you can grow in your garden for your rabbit or guinea pig - find out why Echinacea is a great place to start! #shorts
For more ways you can help support your fur baby's health naturally, check out this class! -
Foraging & Natural Remedies For Your Rabbit Or Guinea Pig
https://www.therabbitrooms.ie/foraging-and-natural-remedies-for-your-rabbit
🐰📣OR JOIN FIONA'S HAPPY BUNNY CLUB AND ACCESS IT FOR FREE!! THIS IS THE ONLY CLUB OF ITS KIND ONLINE, SO YOU CAN JOIN NO MATTER WHERE YOU ARE IN THE WORLD!
Mad about your bunny?! Worried you aren't getting their care right and want to find out all you need to know in one place rather than trawling through the internet and reading conflicting information that leaves you more confused than ever?! Then this is the place for you!!
Hi, I'm Fiona and I am a self confessed bunny nutter! I have been running The Rabbit Rooms Small Animal Boarding in Dublin, Ireland since 2014, and we care for hundreds of bunnies every year - providing holiday care, grooming, and Ireland's only Bunny Bonding Service - this is in addition to our own 11 rabbits💖
I had bunnies when I was a kid, but things have changed massively in the last few years, so when I started having bunnies again, I had to relearn everything I thought I knew - bunnies used to be fed on muesli mix, hay wasn't considered essential, there wasn't the same vet care, bunny bonding wasn't a thing, and they were often kept in small hutches.
Now, bunnies are part of the family, more is known about their diet, behaviour and ideal living conditions, and we know they need specialist vets for their complex health issues. BUT I found it a nightmare to find out all I needed to know - I wanted the absolute best for my rabbit, to be the best rabbit guardian I could be, but all the conflicting and incorrect information online had my head reeling, and I ended up more confused than when I started!!
As I rehomed more rabbits, and began offering holiday care for other people's bunnies, I learned more about these complex little creatures, and they took more of a hold on my heart each day! I now work closely with rabbit savvy vets, keeping up to date on the latest care information, and caring for and bonding so many rabbits means I am always learning something new! It makes me cringe when I hear some of the things people are told, and so I am passionate about helping other people shortcut their learning so they don't have to go through what I went through and they can take the best care of their rabbit sooner! I started offering online classes for the most common rabbit questions I am asked by my customers and in the Facebook Groups I run, and from there Fiona's Happy Bunny Club was born! A fun place for bunny guardians to hang out, learn more about our furry best friends, and develop an even closer relationship with them while helping them be the healthiest, happiest bunnies they can be (and the most spoiled - as they should be!!)
HERE IS A LITTLE PREVIEW OF THE CLUB!
✔️AMAZING BUNNY CLASS LIBRARY to dip into, on whatever topic you need information on - set up, diet, litter training, foraging and natural remedies, how to identify common illnesses, selecting a friend for your bunny, bunny agility, Putting together a rabbit first aid kit and more! The library consists of videos, pdfs and E books. We are constantly adding to this library, think of it as Netflix for Bunnies!!
✔️ REGULAR LIVE SESSIONS WITH BUNNY GUEST EXPERTS - rabbit savvy vets, groomers, rabbit rescuers, complementary therapists that work with rabbits etc - fun, informative sessions with Question and Answer time afterwards!
✔️MONTHLY BUNNY LOUNGE - Bring your bunny to our zoom call, show them off, chat about any issues you are having and get solutions
✔️THE BEST AND MOST SUPPORTIVE COMMUNITY ON THE PLANET! No drama, supportive and friendly, and each day I answer any bunny dilemmas you may have! Connect, Support each other, get Encouragement, and Share Challenges without Judgement, and get the help you need!
➕➕➕➕ PLUS !
➕🐰BUNNY BUDDY OF THE WEEK - every week one of our members introduces their bunny, sharing cute pictures, favourite things to eat and do, and funny stories! This is an amazing way for our members to get to know each other and each other's bunnies!
✔️TOPIC OF THE WEEK - such as how to encourage hay eating, stimulating activities for your rabbit, or a health care issue so we can learn more and share experiences and tips
✔️ REGULAR LIVE EVENTS - Live Masterclasses, Q and A Sessions, Bake alongs making bunny treats, and more!
✔️DISCOUNTS FOR HAY, FOOD, BOARDING AND GROOMING if you are in Ireland, other countries coming soon!
All for just €15 a month! REMEMBER THERE IS NO JOINING FEE AND NO MINIMUM JOINING TIME! Lock in this price for as long as you are a member, even if the price goes up!
Check it out -
I would love to see you and your bunny there!
Fiona x
Ps sign up for my Weekly Newsletter full of tips, recommended products, special offers and fun stuff here