"My rabbit hates the car / getting into the carrier!"

This is a common issue I hear here at The Rabbit Rooms Small Animal Boarding! Sometimes it is necessary though, for example to get them to the vet or holiday boarding service, so here are my TOP TIPS for reducing the stress for both of you!

The steps below will take you several days or weeks to work through, but it will be well worth it to have a bunny that is not bothered about travelling!
Here are 7 WAYS to start helping your rabbit get used to the car and carrier today! 🐰
1. GET THEM USED TO THE CARRIER IN THEIR OWN ENVIRONMENT
Pop it in to their pen, or in their usual free roam space with the whole upper part removed. Put in their favorite blankets, or a towel or tea towel to make it comfortable and throw in a tasty treat to encourage them into it. Rabbits are innately very nosy and so he / she will be interested in exploring the carrier!
2. PUT THE TOP BACK ON THE CARRIER
Once your rabbit is hopping happily in and out of the carrier, You can start putting the upper part on but leaving the door off - make sure it is still comfy with soft blankets or towels and some goodies!
3. GET THEM USED TO SPENDING MORE TIME IN THE CARRIER
Encourage them to spend more time in the carrier by putting their dinner bowl in there, or some hay or vegetables that will take them a little while to eat. This will help them to feel more relaxed in the carrier and you might see them starting to chill out in there or even flop!
4. PUT THE DOOR ON
The idea of this is to make your rabbit used to being in the carrier with the door on just like when they are travelling, so once you see them starting to relax more with the upper part on and spend more time in there, you can just pop the door on for a couple of minutes at a time. Once you remove the door again, let them out and give them a nose rub, some praise and a treat. Gradually build up the amount of time they're spending with the door on and they will get used to being in there and will probably even feel quite secure once they're used to it.
5. WALK AROUND WITH YOUR RABBIT IN THE CARRIER
Pick up the carrier and walk around with it once the door is on and they are used to that. The idea here is to get them used to the movement of the carrier as this is what a lot of rabbits hate about the car. Literally just pick up the carrier and carry it around for a minute or two and gradually extend the amount of time that you're carrying them around for.
6. TAKE A VERY SHORT CAR RIDE
Just five minutes at first and build up gradually until you are doing the length journey that you usually have to do with them to the vet or boarding service. The safest place for your rabbit to travel in the car is for the carrier to be placed in the footwell or on one of the seats whilst buckled in with a seat belt - this will allow the minimum amount of movement which means your rabbit will be happier and also safer.
7. KEEP IT UP!
The biggest issue for a lot of rabbits is that they only go in the carrier or car once in a blue moon, maybe for annual vet checks or boarding once a year, so it seems like a scary, new experience all over again each time! Once you get your rabbit travelling more happily, take them out regularly in the car so they don't forget!
OTHER TIPS
Consider investing in a different type of carrier. There is nothing worse than shoving a rabbit into the front door of a carrier or dragging them out of it. This is uncomfortable for them and also brings a risk of injury. The best types of carriers are either top loading or sliding carriers. The top loading carriers allow you to pick your rabbit up and put them in from the top, placing them down gently, making sure their feet are safe and secure. The sliding carriers have a drawer that pulls out and you pop your rabbit into the drawer, then push the drawer back into the carrier. Make sure to mind their heads and that they don't jump out! Here are some links to these kinds of carrier. (Please note these are Amazon affiliate links. And therefore we may get a small commission if you purchase via the links, no extra cost to you. We do recommend that you buy local and support small businesses where possible instead)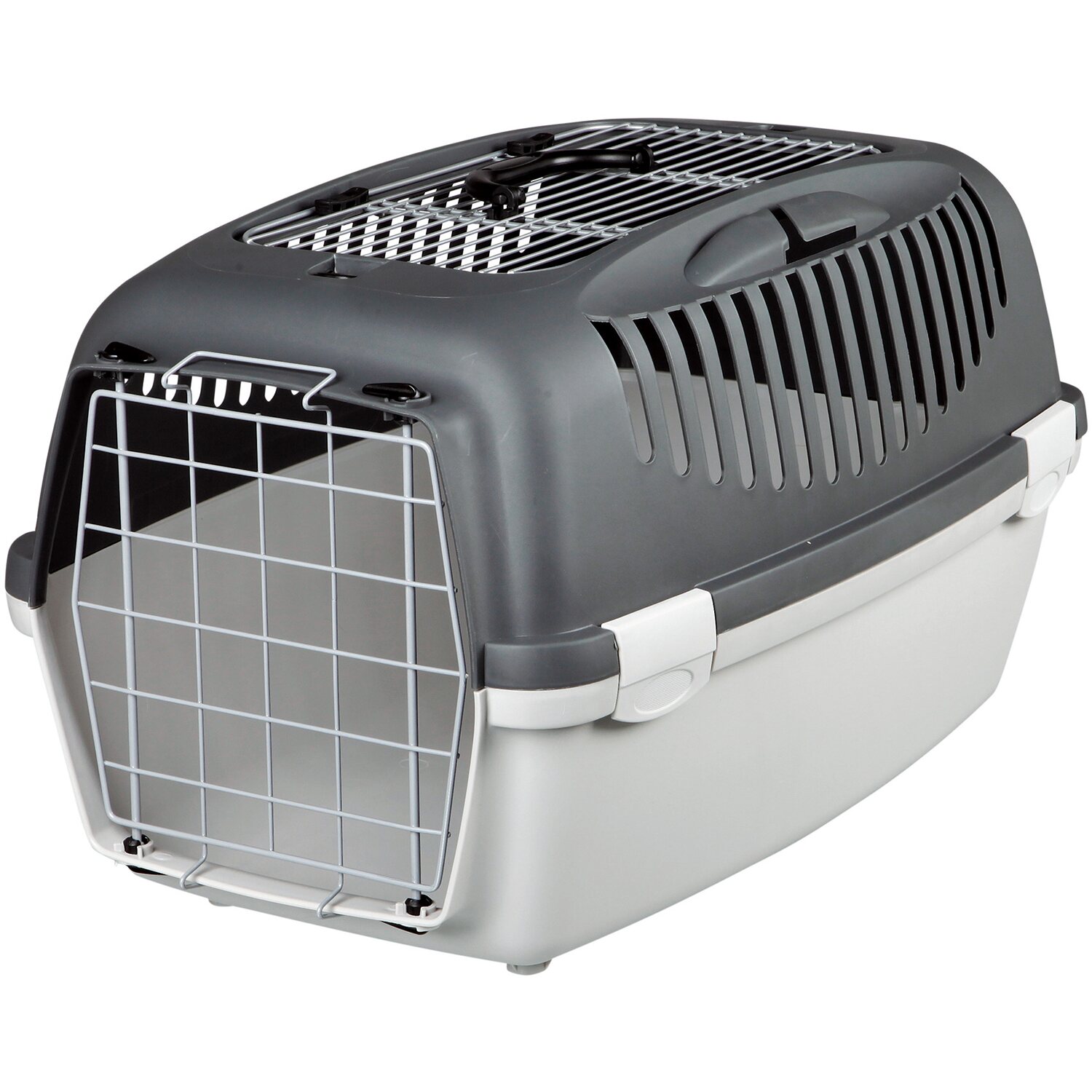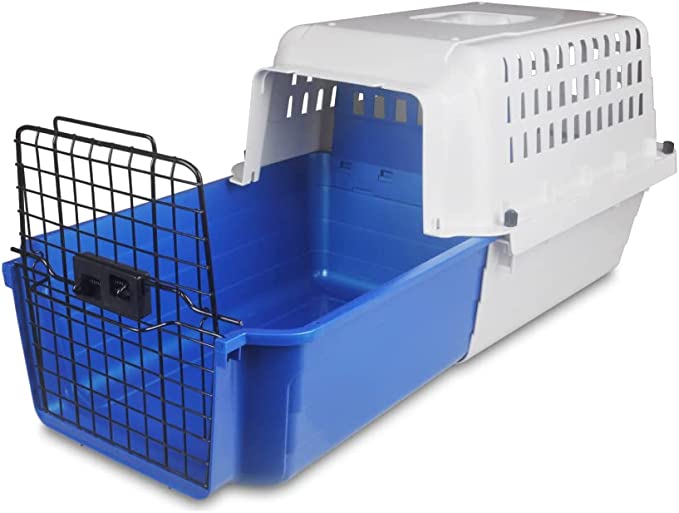 UK LINKS
TOP LOADING TRIXIE CARRIER (GREY CARRIER ABOVE) - https://amzn.to/40fGgee
SLIDING DRAWER CARRIER BY VAN NESS (BLUE CARRIER ABOVE) - https://amzn.to/3yQGnBl
USA LINKS -
TOP LOADING TRIXIE CARRIER - DIFFERENT BRAND / STYLE THAN GREY ONE ABOVE - https://amzn.to/3Jyixiy
SLIDING DRAWER CARRIER BY VAN NESS (BLUE CARRIER ABOVE) -https://amzn.to/3n0N1SR
Get your rabbit used to being picked up. A lot of rabbits do not like being picked up but did you know that a lot of them really enjoy a cuddle once they feel secure?! They can be trained to get used to being picked up and there are lots of good reasons to get your rabbit used to being picked up, such as
Getting them in and out of a carrier much easier

Making vet visits, grooming and nail clipping less stressful

Being able to do a weekly home healthcare check which will allow you to pick up any issues quickly and increase your rabbits chance of a quick recovery and

Developing a closer bond with your rabbits through holding them close.
Check out my class here on how to do to gradually do this and improve your bond with them at the same time! -
My 3 Easy Step Process To Bonding With Your Rabbit (therabbitrooms.ie)
I hope that you found this blog useful, and that you and your bunny enjoy less stressful travels soon!
Fiona x
SIGN UP FOR MY WEEKLY NEWSLETTER WITH CARE TIPS AND EXCITING OFFERS HERE -
https://therabbitrooms.ie/newsletter
WANT MORE BUNNY CARE TIPS, FUN MASTERCLASSES AND INTERACTIVE RABBIT SESSIONS?! CHECK OUT FIONA'S HAPPY BUNNY CLUB, THE ONLY ONE OF ITS KIND IN THE WORLD!